The Western sanctions implemented since the beginning of the invasion of Ukraine in February 2022 were intended to hit the Russian oligarchs and, thus, the Russian regime economically. This is unlikely to have worked. Forbes reports that since March 2022, the number of billionaires in Russia has increased, and most of the 50 or so sanctioned oligarchs have restored their net worth to the level before the sanctions began. Are the sanctions ineffective for the super-wealthy Russians?
Some Russian Oligarchs Are War Winners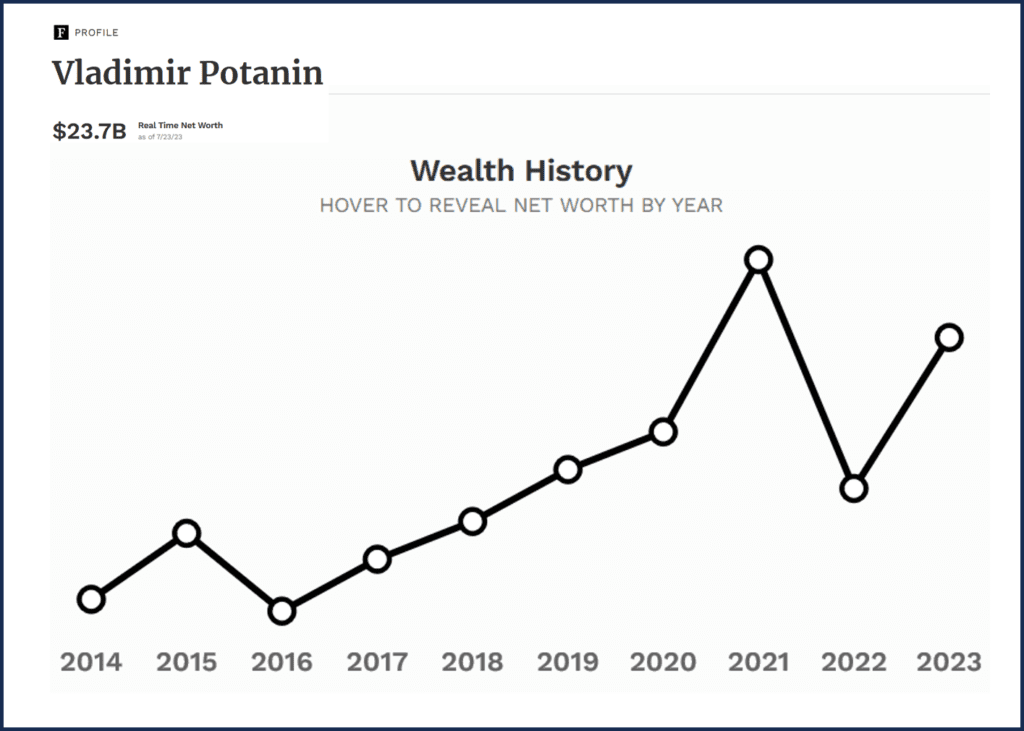 Amidst the backdrop of the Ukraine war and Western sanctions, some Russian oligarchs managed to capitalize on the situation, acquiring assets that others sought to dispose of. Notable among them was Vladimir Potanin, a prominent nickel and banking magnate, who successfully repurchased Rosbank, a Russian banking group, from French firm Société Générale. He had originally sold it to them. Potanin also acquired Tinkoff Bank, one of Russia's largest private banks, from the excommunicated oligarch Oleg Tinkov, for an undisclosed sum.
Potanin's net worth remarkably grew by $6.4 billion between March 2022 and March 2023, largely thanks to his banking ventures, enabling him to retain his position as Russia's second-richest individual.
Russian Oligarchs Challenged By The Sanctions
On the other hand, certain billionaires were adversely affected by the sanctions. Alisher Usmanov, known for his interests in English football clubs Arsenal and Everton, suffered the seizure of his luxurious super-yacht "Dilbar" by the German government in 2022. His current net worth stands at $14.4 billion.
Another high-profile oligarch targeted by the sanctions was Roman Abramovich, with stakes in Russian steel giant Evraz and nickel producer Norilsk Nickel. The UK government compelled Abramovich to sell Chelsea FC for nearly $5 billion in May 2022 without him receiving any proceeds from the sale. His fortune experienced a decline, dropping from an estimated $14.3 billion on February 23 to $6.9 billion, but later rebounded to his current net worth of $9.2 billion.
The Russian Billionaires Got Richer
Despite these challenges, the Russian billionaire community exhibited remarkable resilience. Forbes' 2023 World's Billionaires List included 105 Russian billionaires with a combined net worth of $474 billion, up from 83 billionaires worth a total of $320 billion in March 2022. Surprisingly, amidst the "crazy war" and Western sanctions, they added a staggering $154 billion to their wealth over the past year.
Notably, some individuals relinquished their Russian citizenship to avoid sanctions, such as Yuri Milner, Nikolay Storonsky, Timur Turlov, and the co-founders of JetBrains, Sergei Dmitriev, and Valentin Kipyatkov.
While the Western sanctions impacted 39 Russian billionaires, causing a collective decline of 13% since the day before Putin's invasion, they subsequently rebounded, regaining a remarkable $104 billion from March 2022 to March 2023. Additionally, seven sanctioned billionaires managed to grow their fortunes enough to rejoin the ranks of the world's richest people in 2023 after missing out in March 2022.
Comparatively, the fortunes of American billionaires decreased by $200 billion between March 2022 and 2023, and China's richest individuals saw a decline of $300 billion. Net worths for the list were measured using stock prices and exchange rates as of March 10, 2023.