The term superyacht refers to crewed yachts, ranging from 40 meters to more than 180 meters in length. A superyacht with over 90 meters is called a gigayacht, only a half-dozen of them launch every year. The Financial Times published an interesting article calling superyachts a terrible asset. They need permanent maintenance. Saltwater is a harsh environment. Only with constant maintenance and repair, you can keep a vessel alive.
A superyacht is indeed a terrible asset, which cannot be hidden! On the contrary! A superyacht is included in public recordings and can be tracked. The bigger the yacht, the worse. The yearly maintenance cost is so high that a superyacht only makes sense for people who need a hard, reasonably liquid asset in their portfolio and don't have any better options. The Ukraine War is a significant blow to the superyacht industry, booming over the last two years, with demand soaring higher than ever. According to Boat International, in Dec 2021, the 2022 Global Order Book recorded 1,024 projects in build or on order, a rise of 24.7 percent compared to 2021.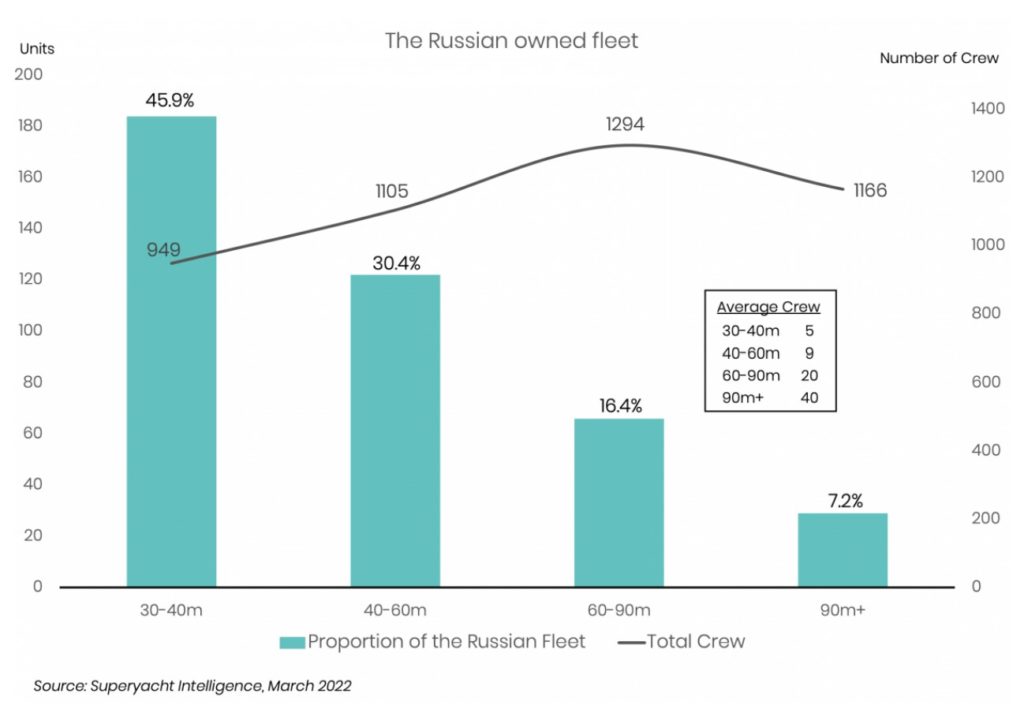 The Superyacht Agency has found that Russians own around 370 superyachts over 30m in length, equating to about 8.8 percent of the superyacht fleet. However, Russians own just over 29 percent of all superyachts over 90m in length.
According to a report by The Superyacht Group, Russians own 18 gigayachts. There is a gigayacht for every 34 billionaires on the Forbes list in the US. In the UK, there's one for every 19. But in Russia, there's a gigayacht for every seven billionaires.
The Superyacht Agency estimates that there is over 4,500 crew who have been affected by the Western sanctions. This roughly equates to about 11 percent of all superyacht crew across the entire fleet. The Russian-owned superyachts over 90 meters in length actually employ more crew overall than the yachts in the 30-40m range.
The Russian oligarchs may already regret their decision to invest in the prestigious superyachts asset.