Google, like Meta (previously known as Facebook), has been massively criticized for making a lot of money from advertising scammers. The UK Financial Conduct Authority (FCA) issued 1,200 warnings in 2020 about scams made by fake companies on Google and social media platforms. Consequently, in August 2021, Google UK & Ireland re-regulated the advertising of financial offers, allowing only FCA-regulated firms to advertise financial services, including crypto ads. On the other hand, on Google DE, fraud scheme operators can still buy ads without any restrictions.
Google UK approach
To show financial services ads and crypto ads in the UK – including ads to UK users who appear to be seeking financial services – advertisers have to be verified by Google. As part of this KYC process, advertisers must demonstrate that they are authorized by the UK FCA or qualify for one stated exemption. In the UK, therefore, unverified and unregulated companies cannot, in principle, buy financial ads from Google.
Today, we are announcing a significant additional measure to protect users and legitimate advertisers, and help prevent scammers exploiting our platforms.

Ronan Harris, Vice President Google UK & Ireland (Source: blog post)
In a blog post, Google says the move is to fight financial fraud in the UK and protect consumers. On the other hand, scammers can still hunt down German-speaking consumers with massive ad campaigns on Google. It is no problem to run fraudulent crypto campaigns like Bitcoin Prime via fake companies and fake websites.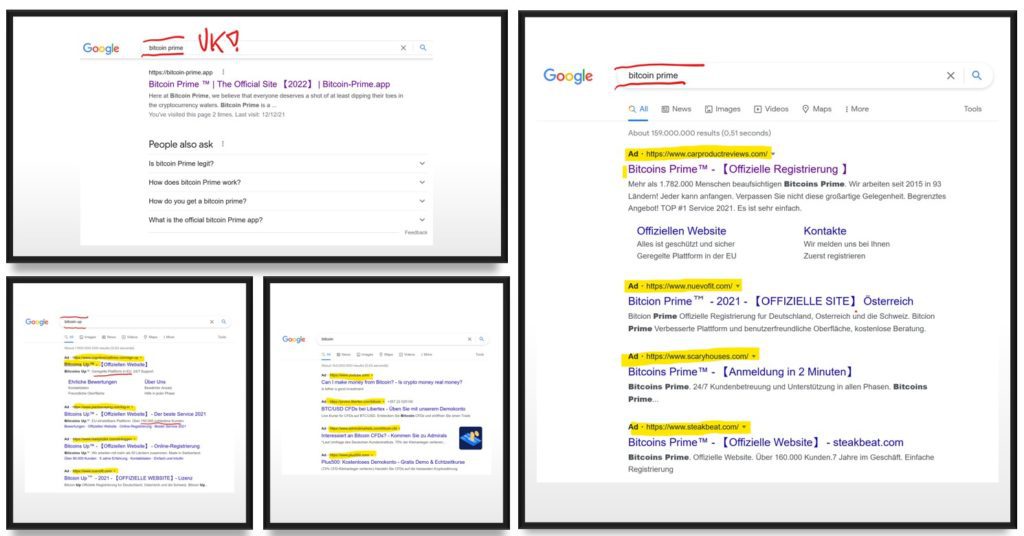 Google DE welcomes fraud ads
In our related review on January 16, 2022, we searched for "Bitcoin Prime" on Google UK. Bitcoin Prime is a notorious financial marketing fraud scheme. Google UK did not present ads to us, which is as it has to be. The exact search on Google DE presented four ads from fake websites. Searches with other relevant terms such as "Bitcoin Up" or "Bitcoin" brought a similar result. Zero ads on Google UK and massive ad campaigns from the operators of illegal financial offers on Google DE (picture left).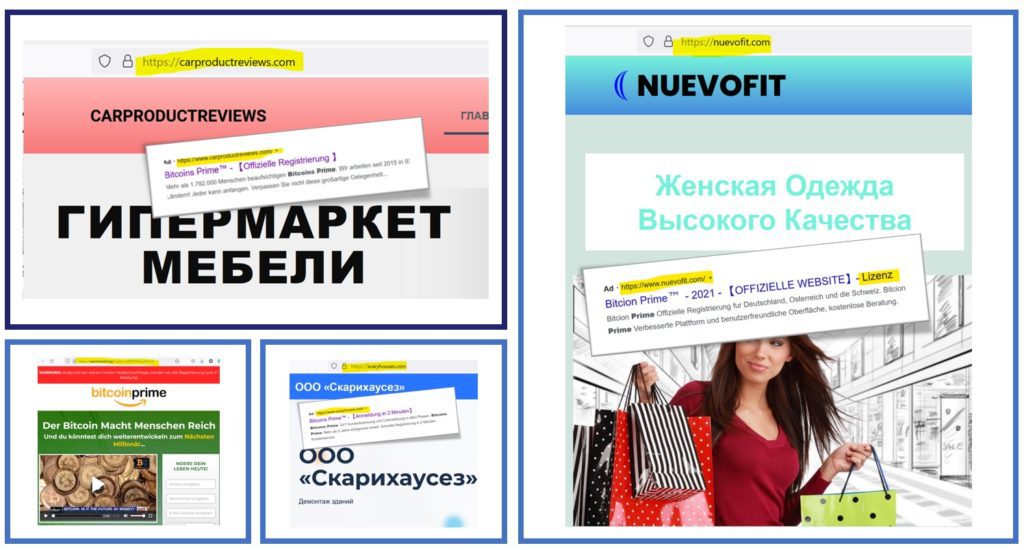 Scheme operators place the fraudulent ads on Google DE through fake websites like CarProductReviews (www.carproductreviews.com), ScaryHouses (https://scaryhouses.com), or Nuevofit (https://nuevofit.com). These are Russian websites, allegedly operated by Russian entities. Clicking on the fraudulent Google Ads takes potential victims to other German websites like WarmInvest (https://warminvest.com), where fraudulent campaigns like Bitcoin Prime chase victims for broker scams.
Preliminary conclusion
Google's approach is neither understandable nor acceptable. Evidently, Google realized the threat that fraud schemes can do via ads on the search platform. Thus, Google UK imposed strict rules to protect consumers. However, Google DE still accepts operators of fraudulent campaigns and offers on Google DE. Given Google's algorithmic power, it would be easy to detect and decline these fraud ads. Google is apparently knowingly and willingly allowing these fraudulent Financial Ads to increase their profits. With the money that has been stolen from the victims of these fraud schemes in the first place.
German regulator BaFin has issued several warnings against websites that have run fraudulent financial and marketing campaigns in recent months. So BaFin holds itself responsible for these issues. Consequently, the regulator should at least issue a swift warning against Google DE. This would set a public sign in the fight against cybercrime and scams.
It is unacceptable that Google is apparently aware of the danger of fraudulent financial ads but does not react to it accordingly. Why is this allowed to happen on Google DE? The EU is also needed here!

Elfriede Sixt, EFRI principal
In a statement to FinTelegram, Elfriede Sixt, principal of the European Fund Recovery Initiative (EFRI) said that Google, like Meta, knowingly provides powerful platforms to fraudulent schemes facilitating financial fraud. Therefore, they are complicit in the losses of hundreds of thousands of European consumers.