If there were a list of top cybercriminals, Georgia-born Israeli Gery "Gabi" Shalon, a/k/a Gabi the Georgian, would probably be at the top. Perhaps there is such a list at the U.S. FBI with which Gery Shalon is currently cooperating. Not voluntarily, but as part of a plea deal in which Shalon allegedly pleaded guilty to the charges. In November 2015, the U.S. prosecutors charged him with computer hacking, securities fraud, money laundering, operating an illegal gambling business, and other counts. The indictment includes a total of 23 counts.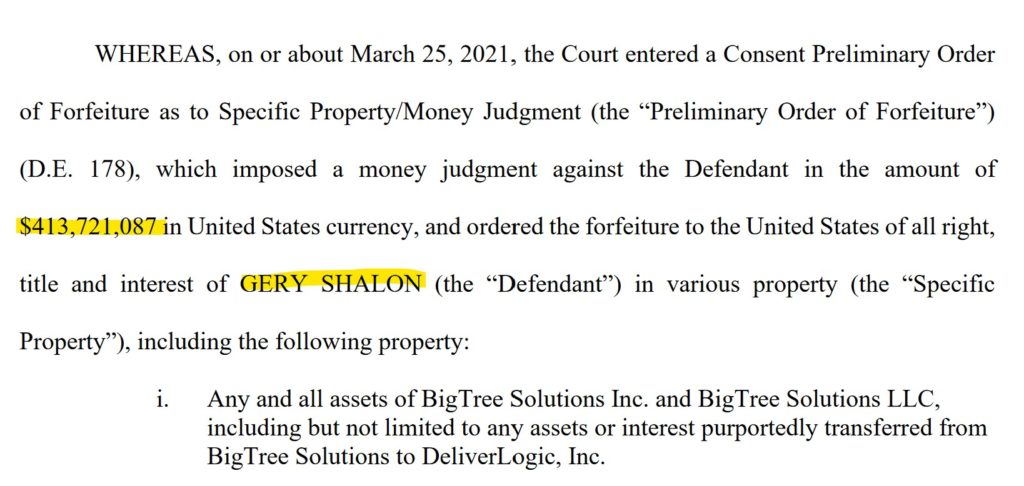 Without a doubt, Gery Shalon is very rich. Estimates range up to $2 billion that he is said to have with his father, the former Georgian politician Shota Shalelashvili. We do not know if this figure is correct. However, we know that he must and apparently can pay nearly half a billion dollars in fines to the U.S.
Gery Shalon was arrested in Israel in 2015 and extradited to the U.S. He spent some time in prison there and was later released to house arrest in New York. He pleaded guilty in April 2017. To date, much of his criminal record remains sealed. In March 2021the court entered a Consent Preliminary Order of Forfeiture ordering Shalon to pay monetary fines of approximately $413 million. The U.S. Government forfeited bank account balances and other assets to pay these fines. Gery Shalon has already agreed to this as part of the plea agreement.
It now remains to be seen what Shalon's prison sentence will be. The maximum sentence for the 23 counts charged is around 200 years in prison. Allegedly, Shalon has been closely cooperating with the U.S. authorities to fight against Russian hackers. He has snitched on some of his former accomplices, such as Russian Andrei Tyurin, who received a 12-year prison time sentence. The online magazine Daily Beast has called Shalon the Tony Soprano of cybercrime.
Shalon has cooperated with his Israeli compatriot Gal Barak, the Wolf of Sofia, in the forex and binary options industry. Through E&G Bulgaria, tens of thousands of consumers are said to have been harmed by more than $200 million. In 2019, Barak was arrested, indicted, and later sentenced to four years in prison and payments of around €4 million for investment fraud and money laundering, FinTelegram reported.