We recently published a Request 4 Information on the Maltese operator Capital Solutions Ltd as part of our focus on "Boiler Rooms." We very quickly received further information from whistleblowers and partners. Especially the person of Gennaro Lanza seems interesting to us. He is currently the only remaining beneficial owner after his Italian co-founders Massimiliano Moroni, and Italo Mainolfi sold their shares to him. Lanza is connected to several offshore brokers such as Dubai FXM, NewFX, or DB Investing. Evidently, he is operating a vast unauthorized financial business in Malta.
Key Data
| | |
| --- | --- |
| Brands | Dubai FXM, DubaiFXM Trade, DB Investing, NewFX, DBFX, DBFX Trades, |
| Boiler Room | Capital Solutions Ltd, Malta |
| Connected individuals | Italian citizens Gennaro Lanza, Massimiliano Moroni, Italo Mainolfi |
| Connected entities | Capital Solutions Ltd (Malta), Big Horizons Ltd (Seychelles), Invest Group Global Ltd (Seychelles), Dupay LP (previously Dubai FXM LP in the UK), Dubai FXM Limited (Vanuatu), DBInvesting Limited (Vanuatu), Belight Capital Group Ltd (Cyprus) |
| Regulatory actions | warnings of CNMV and CNMV, revocation ofBelight Capital Group license by CySEC |
| Jurisdictions | Malta, Cyprus, Vanuatu, Seychelles, United Kingdom |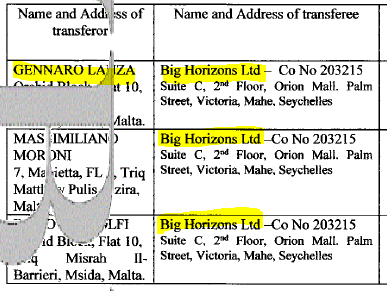 The Capital Solutions owner
The original shareholders Italo Mainolfi, Massimiliano Moroni, and Gennaro Lanza, held their shares in Capital Solutions Ltd through Big Horizons Ltd, registered in Seychelles.
At the end of 2020, Mainofli and Moroni resigned as directors of Capital Solutions and sold their shares to Invest Group Global Ltd, also registered in Seychelles. This offshore entity is controlled by Gennaro Lanza, who is also the only director of Capital Solutions. The Maltese companies register shows that Invest Group Global Ltd currently holds 99.5% of the company shares. The remaining 0.05% is held by the Indian Alpin Sha, who is also the company secretary.
Offshore and scam brokers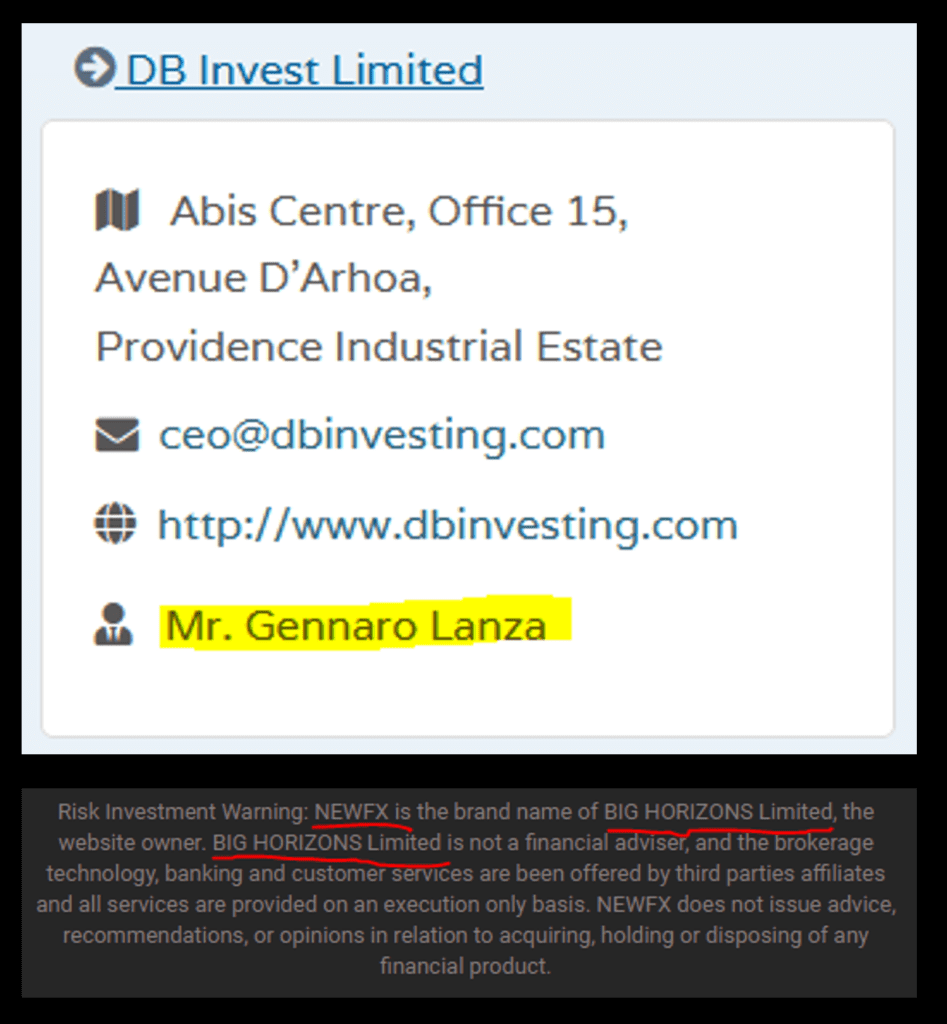 Big Horizons Ltd, the old shareholding entity behind Capital Solutions Ltd, is also the owner and trademark holder of the unregulated offshore broker NewFX (www.newfx.co) and can thus be attributed to Gennaro Lanza. The latter is also registered as CEO at DB Invest Ltd (screenshot left), licensed by the FSA Seychelles. This is the operator of the offshore broker DB Investing (www.dbinvesting.com).
Gennaro Lanza was also the controlling person behind Dupay LP (formerly Dubai FXM LP) which was part of the corporate network surrounding the now disappeared Dubai FXM scams (www.dubaifxm.com) until its dissolution in February 2020. The Vanuatu-registered and VFSC-regulated Dubai FXM Limited and DIFC Dubai FXM Limited have been the registered partners of this UK entity.
In April 2019, the Spanish CNMV issued a warning against Dubai FXM domains, in March 2020, Italian regulator Consob ordered the blackout of Dubai FXM's websites. Soon after, the offshore broker vanished.
The Cyprus connection
Lanza does not only have his companies and interests in Malta. He is also present in Cyprus with DIFC Limited and, additionally, was associated with the Belight Capital Group Ltd, which operated as a CySEC-regulated investment firm until 2021.
Until late 2020, Lanza's DB investing used to be operated by DBinvesting Limited, an offshore subsidiary of the then CySEC-regulated Belight Capital Group Ltd. In July 2020, the Spanish regulator CNMV issued a warning against DBFX Trades (www.dbfxtrades.com), another offshore broker of the CySEC-regulated investment firm. Read our report here.
The ZP Services legacy
ZP Services Ltd brought a lawsuit against Gennaro Lanza for allegedly leaving the company early, taking employees and clients with him to Capital Solutions Ltd. They are still fighting. Another court hearing is scheduled for December 2021.